Updated on 8 November 2023 – In the bustling digital age, where connections are a click away but meaningful interactions are rare, Chatroulette emerges as a beacon for those craving genuine human contact. Imagine a place where friendships blossom from chance encounters and every click could lead to a story worth telling. This is the essence of Chatroulette – a unique online chatting platform that redefines the concept of connecting with others. By harnessing the serendipitous nature of roulette, Chatroulette pairs you with others across the globe, offering an online experience that's refreshingly unpredictable. Here, the joy of discovery is woven into every interaction, making Chatroulette not just a platform, but a journey into the heart of spontaneous connection.
Chatroulette is an online chatting platform that allows users to chat with others to ensure more fun. The website is a perfect choice for finding friends online in a quick turnaround time. It works on the principle of regular roulette, which allows users to match the profiles randomly.
The platform gained about 1.5 million active users within four months after the launching process. In addition, it offers a video chat feature that allows users to get a great experience allowing maximum control over the selection of country and gender you are interested in.
Moreover, the platform is entirely different from regular chatting platforms. It allows
Feature Highlights
Unleash the potential of limitless connections with Chatroulette's "unlimited video chatting" feature. Unlike many platforms that impose time restrictions, Chatroulette offers uninterrupted conversations, fostering deeper connections. This feature stands out from the crowd, providing a boundless canvas for dialogue and expression.
Privacy is paramount in the digital realm, and Chatroulette champions this with its "no registration" policy. Engage in video chats without the footprint of personal data, a stark contrast to sites demanding detailed profiles. This not only streamlines the journey into new friendships but also fortifies your digital privacy, setting Chatroulette apart as a sanctuary for secure social exploration.
you to have unlimited video chatting with the person of your interest. There are a lot more features to make your stay at the website much more delightful.
| Feature | Chatroulette | Competitors |
| --- | --- | --- |
| Video Chatting | Unlimited duration | Often time-limited |
| Registration | Not required | Required |
| Privacy | Anonymity preserved | Personal details needed |
| User Selection | AI-powered matching | Manual selection |
| Accessibility | Free with no hidden costs | May have fees or subscriptions |
| Mobile Availability | Browser-based, no app needed | Often require an app download |
| Safety | Facial recognition and moderation | Varies by platform |
Finding new people online with ease on Chatroulette
Finding new people at Chatroulette is fun. Chatroulette online platform lets users chat with strangers without any registration. It has only the webcam feature in the center that allows a person to start a chat quickly. There is no text chatting available on the platform, and facial recognition is necessary when users like to initiate a conversation.
Apart from that, it lets users chat and share important information with selected people. The services are entirely free and allow users to find strangers who have common interests. Users can also press the "next" button enabling them to continue the search process when they are not satisfied with a chat partner.
Selection
Every time, you will have an option to select the gender of your choice. Chatroulette, then through its strong AI network, will find your match.
Having the facility to decide your choices every time you sing on the platform is fantastic. You feel like you have all the power with whom you want to talk and chat for fun.
You cannot talk to anybody without their consent. Both parties need to select. And you will be matched if you select back someone. As long as both people agree to talk to each other, they can.
Moderation
There is a strict check of officials on any misconduct. Inappropriate behavior is not allowed at any cost. You can have fun but cannot cross the limit without consent.
It is the most appealing feature for many users. Inappropriate behavior and Harassment are two main reasons people avoid online chat websites like Chatroulette. But officials have made it clear and taken strict action against any such misconduct.
Choose your partner
After all the liberty and convivence this platform has given you, we are going to reveal yet another striking feature that will leave you astonished.
Yes! Choose your partner!
It may sound ordinary, but it is not. Chatroulette was developed to make this happen, and after years of struggles, it is finally possible!
On the need to hustle around different online dating websites to find your match when you do not have any control over the basic things. But it is different here; besides all the other options to control, you can also have authority over your partner's choice!
Isn't it amazing?
Control over information
We hope that you have already understood most about this fantastic video chat platform for adults. But there is something more important to mention here!
Besides all those restrictions and limitations regarding identity and personal information, which is, no doubt, necessary to keep you safe and secure, there are certain people you can share your identity with.
It is done in case if you develop enough understanding and want to take things to the next level. You can share your identity and information to meet that particular person and vice versa if you plan to start a relationship.
Privacy
Many people avoid joining online adult video chatting platforms like Chatroulette because they think that by doing so, they will be compromising their privacy readily. Their concern is proper because it is true in many cases, but it is not the case with Chatroulette, as they promise 100% privacy.
Everything is written in their privacy policy statement. They will take good care of your data and information. Any data and information will not be shared with anybody. Even the people you will talk with will be unable to see your name and other related information.
Chatroulette is committed to fostering a safe and private environment for all users. Rigorous safety measures are in place, including:
Facial Recognition: To initiate a chat, facial recognition software ensures only genuine users participate, deterring inappropriate use.
Data Protection: User data is secured with encryption, and our privacy policy strictly prohibits sharing information with third parties.
Moderation and Reporting: Users can report any inappropriate behavior, which is swiftly addressed by our moderation team to maintain community standards.
These protocols ensure that privacy is not a privilege but a guarantee, allowing users to connect confidently and securely.
User Guidance
Step-by-Step Guide to Starting a Chat on Chatroulette:
Access the Platform: Navigate to Chatroulette's website. No download or registration is needed.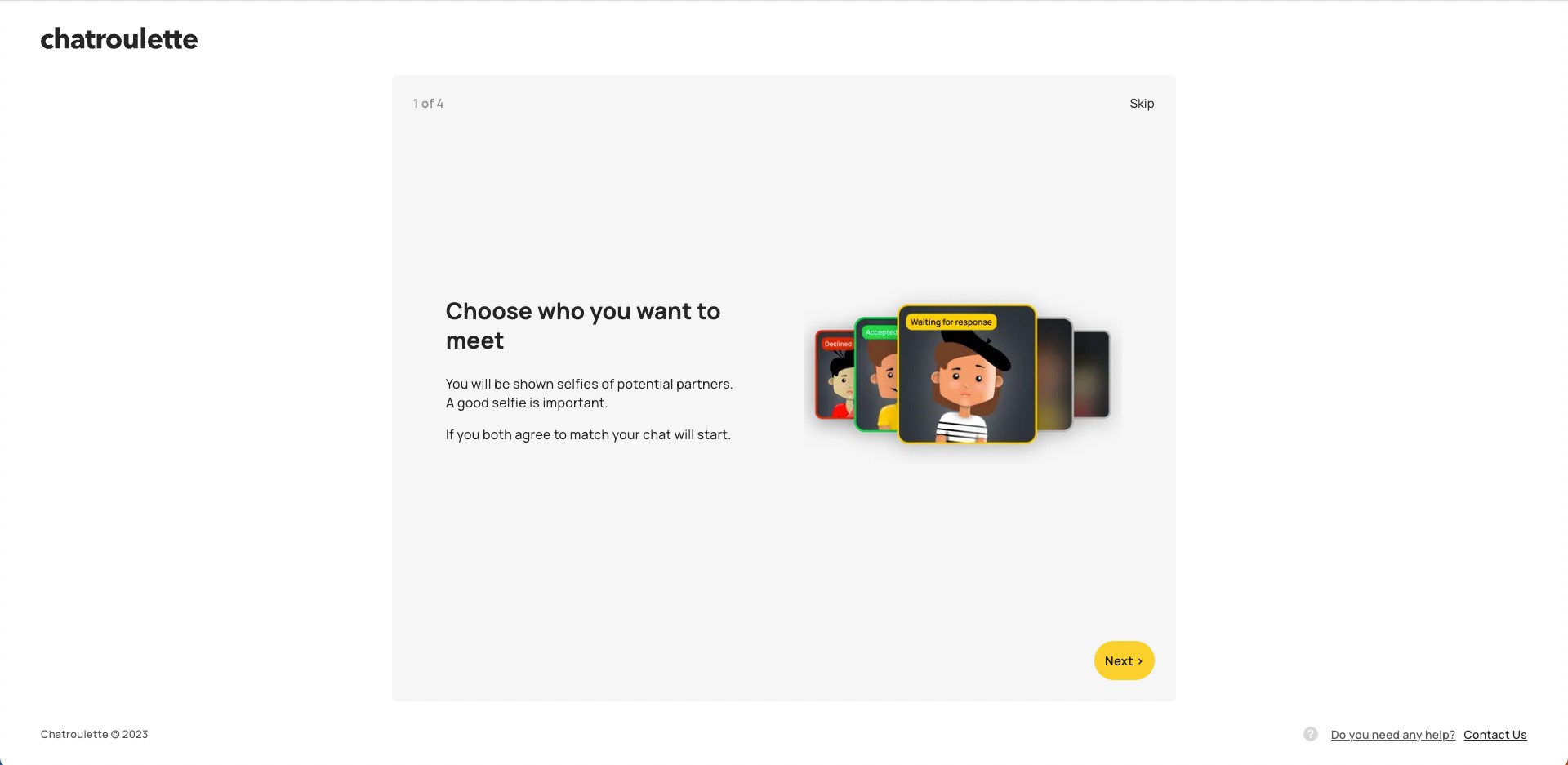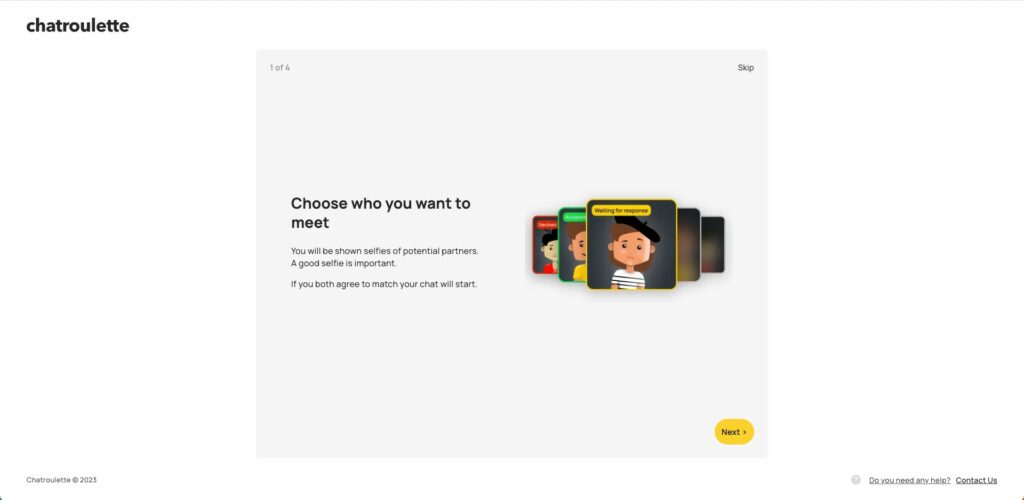 Enable Your Camera: Grant the site permission to access your camera and microphone for full functionality.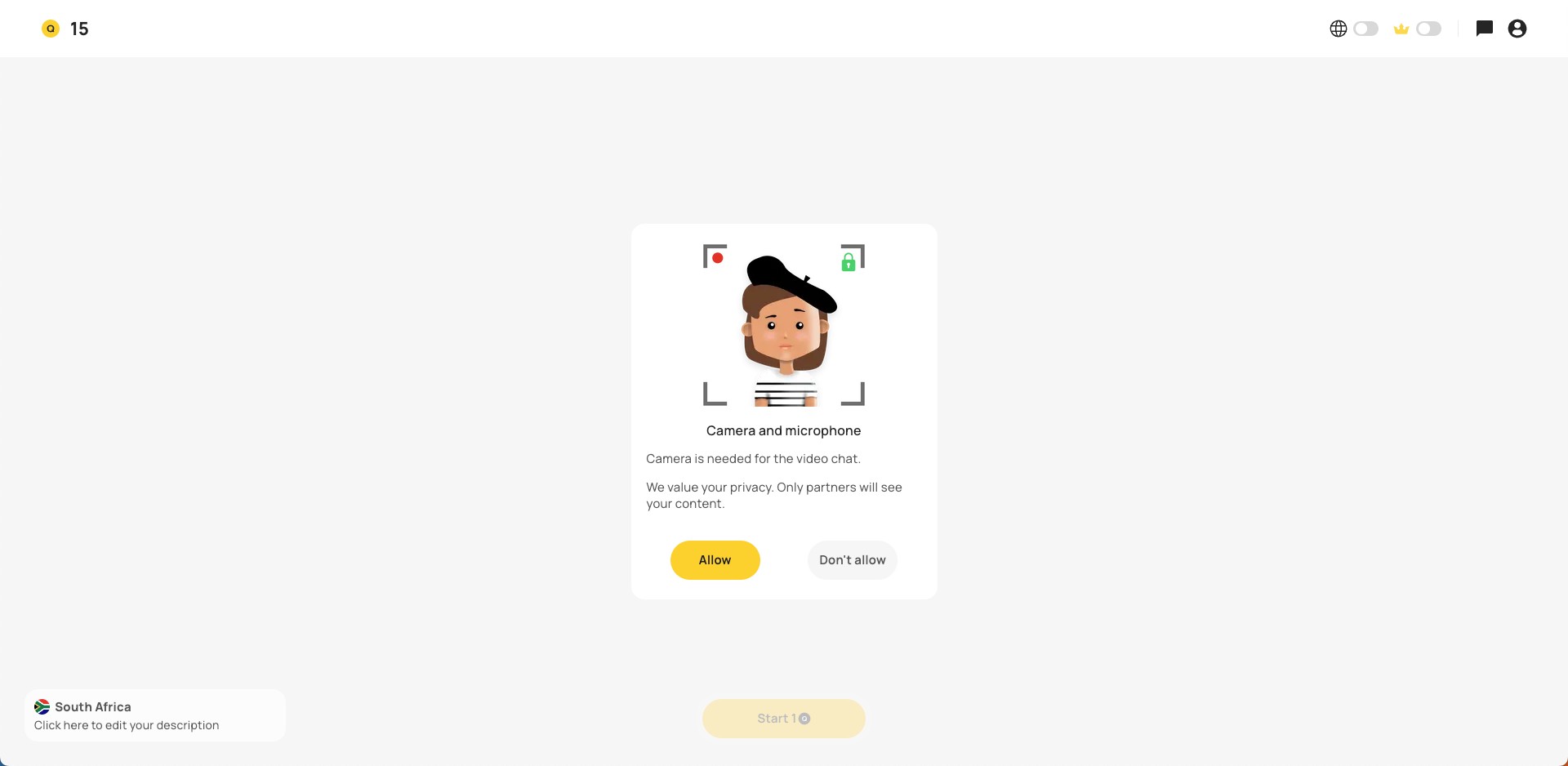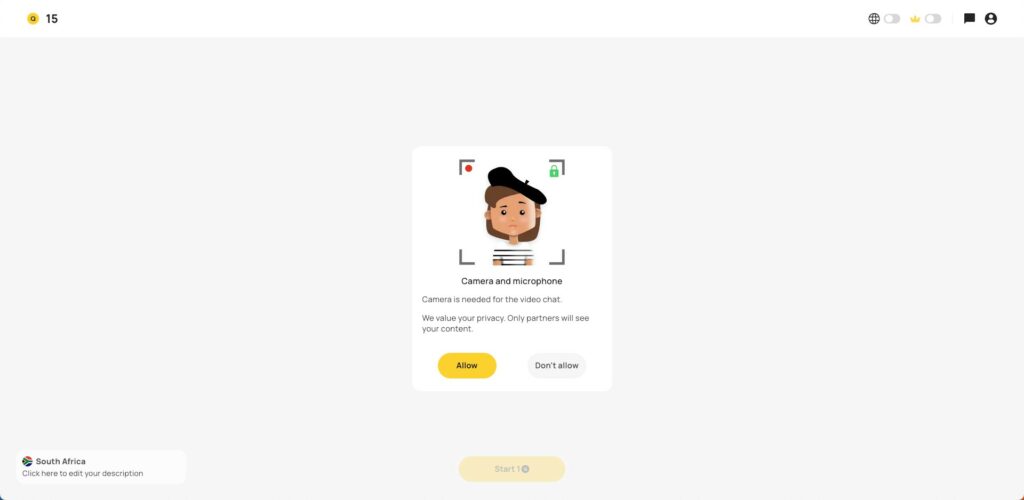 Start Chatting: Click the "Start" button to initiate the chat. The AI will randomly connect you to a new person.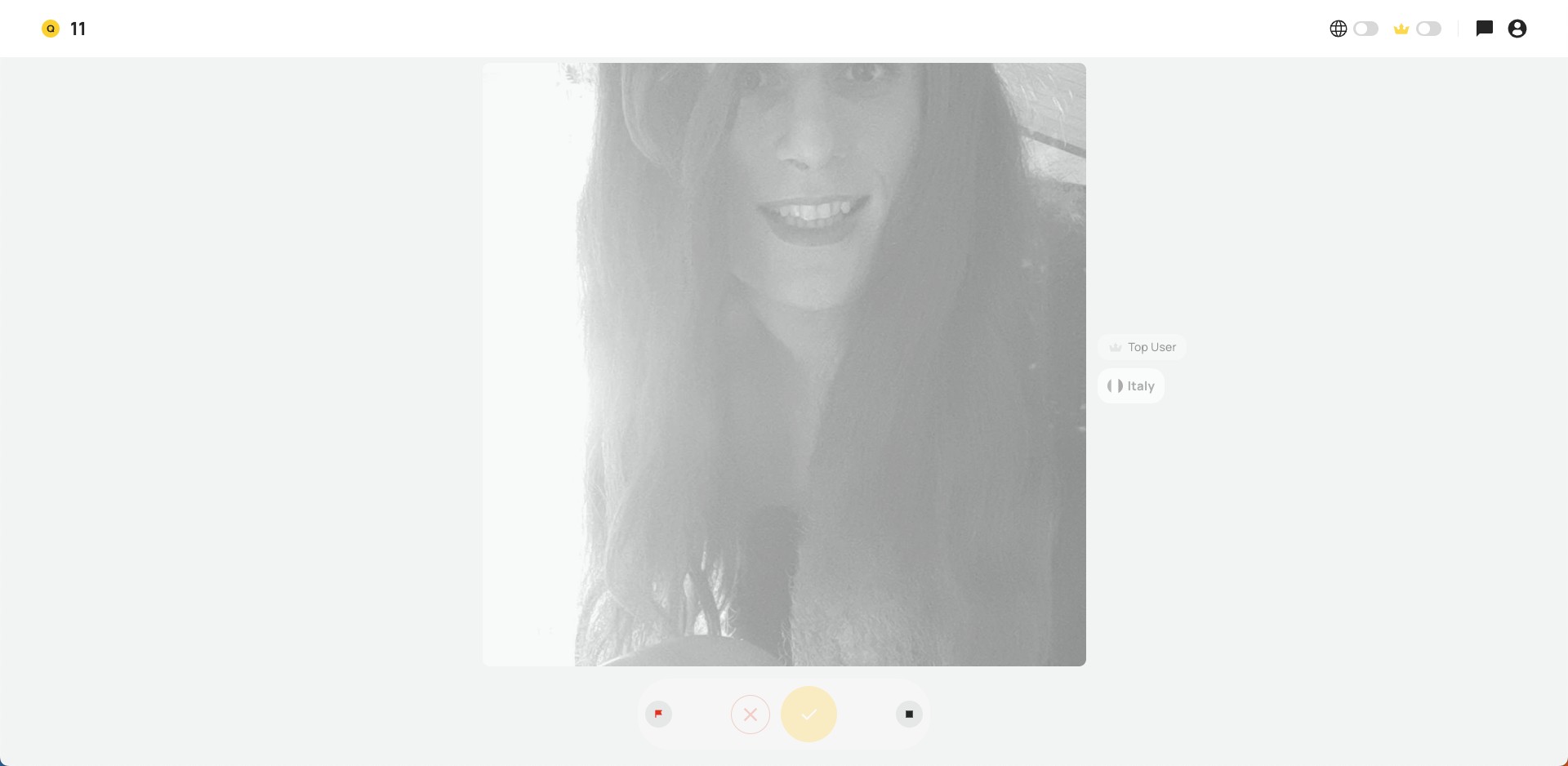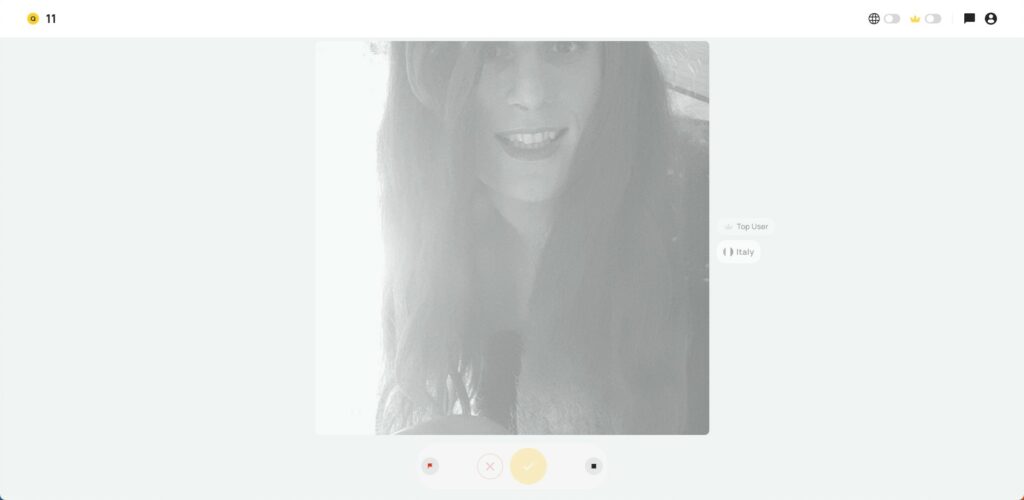 Next or Stop: If you wish to talk to someone else, simply click "Next". To end your session, click "Stop".
FAQ Section:
Q: How do I start a chat? A: Simply click the "Start" button after granting camera access.
Q: Can I choose who to chat with? A: While matching is random, you can filter by country or gender, depending on your preference.
Q: Is my privacy protected? A: Yes, Chatroulette does not require registration, and chats are anonymous.
Tips for an Optimal Chatting Experience:
Ensure a stable internet connection to minimize disruptions.
Have good lighting so that your chat partner can see you clearly.
Be polite and respectful to maintain a friendly environment.
Use the "Next" feature to explore different conversations.
Report any inappropriate behavior immediately for a safe community.
Pros and cons of using Chatroulette
Pros
Flexibility: Chatroulette provides the flexibility for users to engage in both brief and extended conversations. There's no pressure to continue, and users can end the chat anytime, facilitating a comfortable and controlled experience.
Smooth Transition: Post-conversation, the platform immediately offers the opportunity to start a new chat, ensuring a seamless user experience without awkward goodbyes.
Anonymity: The site values user privacy by allowing anonymous interactions without the need for extensive personal disclosures, promoting a safe space for open communication.
Cons
Overwhelming Choice: The random nature of connections, while exciting, can sometimes lead to an overwhelming experience with the constant influx of new chat partners.
No Persistent Connections: The design of Chatroulette means relationships are fleeting; users seeking to build long-term connections may find this challenging.
Tech Requirements: A functional webcam and stable internet connection are non-negotiable for Chatroulette, which might exclude users with limited tech resources.
| Feature | Chatroulette | Competitors |
| --- | --- | --- |
| Conversation Duration | Flexible, from minutes to hours | Often have fixed time slots |
| Transition Between Chats | Instant, no explanations required | May require navigation through menus |
| User Anonymity | Highly anonymous | May require profile creation |
| Nature of Connections | Random, fleeting | Can have options for persistent connections |
| Tech Requirements | Webcam essential | May offer text-only options |
Social Proof and Trust
Chatroulette's vibrant community speaks volumes about its impact and trustworthiness. With testimonials like "I met my best friend on Chatroulette," and "It's like traveling the world from my living room," users share how Chatroulette has enriched their lives.
Boasting nearly 3 million unique visitors monthly, the platform's popularity is a testament to its capacity to forge authentic connections. These user numbers aren't just statistics—they're stories of people choosing Chatroulette as their gateway to global interaction, all while feeling secure in their privacy and the genuine nature of the connections they make.
More about Chatroulette
The online platform is legal to use and has nearly 3 million unique visitors monthly. It is an ideal one for all types of individuals to search for new friends from home. On the other hand, the platform follows specific rules and regulations, and people should know them in detail before starting a chat.
Attractive alternatives
In an era where the essence of spontaneous connection often gets lost in the transactional nature of modern dating platforms, Chatroulette stands out as a refreshing counterpoint. It prioritizes the thrill of the unknown and the joy of genuine interaction, without the primary intent of monetization. This ethos of facilitating connections rooted in authenticity is what sets Chatroulette apart as an attractive alternative to mainstream dating sites.
Let's explore a few alternatives that also offer unique approaches to online socialization:
StrangerCam: StrangerCam offers a similar roulette-style video chat experience, providing a platform for random, real-time connections. It emphasizes user privacy and offers various filters to tailor the random chat experience to users' preferences.
Omegle: Omegle is one of the pioneers in anonymous chat services, offering both text and video options. It provides a simple, no-frills platform for spontaneous conversations with strangers and has been known for fostering a diverse range of interactions.
Bazoocam: Bazoocam takes random chat to another level by incorporating multiplayer games that users can play with each other during their video chat sessions, creating a fun and interactive environment that goes beyond conversation.
Tinychat: Tinychat is a bit different, offering chat rooms that can host multiple people simultaneously. Users can create their own chat room on any topic, inviting others to join in group conversations, making it a good platform for themed discussions and meetings.
Each of these platforms brings its own flavor to the world of online chat and dating, providing various options for those seeking alternatives to the traditional dating site model.
Chatroulette User Testimonials
Unplanned Jam Sessions: "I clicked 'Next' and found a drummer. I grabbed my guitar, and we had an impromptu jam session. We've been sharing music tips ever since." – Dave, 28
Cross-Cultural Exchanges: "I was matched with an artist from Spain on Chatroulette, and we've been teaching each other about our cultures through art. It's been an enriching experience!" – Priya, 24
Globetrotting from Home: "Chatroulette has been my portal to the world. I've 'traveled' to four continents and met incredible people I otherwise wouldn't have." – Michael, 32
Random Acts of Kindness: "I was having a rough day, and the person I met just made me laugh. It's amazing how a complete stranger can lift your spirits." – Hannah, 29