Updated on 6 Nov 2023 – Nowadays, there are several online platforms available for people who want to meet new friends through chat rooms. It is advisable to make a detailed study about them from various sources for choosing the right one. Omegle is a new online platform that allows users to meet random strangers in one place. The platform provides ways to start chatting with other users without making any registration. It started as a text-only chat service platform in 2009 that gained more users. However, the platform introduced the video chatting feature in 2010 to fulfill the expectations of users.
Since its inception as a text-only chat service in 2009, Omegle has experienced exponential growth, evolving into a platform with a substantial user base. With the innovative addition of video chat in 2010, it has become a hub for over 600 million unique connections annually, reflecting its vast global reach. As of 2023, Omegle attracts approximately 50 million visitors each month, a testament to its popularity and the effectiveness of its features like spy mode chat, video chat, and special offerings for college students. Omegle's unwavering commitment to enabling seamless, registration-free interactions continues to draw a diverse and expansive audience, cementing its status as a premier platform for individuals seeking new connections worldwide.
What are the features of Omegle?
Omegle offers spy-mode chat, video chat, tags, and college student chat features for users allowing them to ensure a great experience. A spy-mode chat is an ideal choice for those who want to chat with others anonymously without revealing their identity. The video chat shows methods to chat with a random stranger through video cameras. A tag is an option available for users to add their interests that match with others. College students can also join the chat room by putting their email addresses ending with .edu, .edu.xx, or .ac.xx. The website doesn't store any email address of users which provide more privacy.
Spy-Mode Chat: This unique feature allows a user to observe a conversation between two strangers and even contribute questions without participating directly.
Video Chat: Users can engage in face-to-face interactions with others around the globe, with the option for text or video.
Interest Tags: By adding tags related to their interests, users can be matched with strangers who have similar likes, fostering relevant and engaging conversations.
College Student Chat: Exclusively for college students, this feature requires a .edu email, creating a safer community and a network of peers.
Anonymity and Privacy: Omegle's commitment to privacy is evident as it doesn't require registration, nor does it store email addresses, ensuring conversations remain anonymous.
Here's a comparative table for these features:
| Feature | Description | Privacy Consideration |
| --- | --- | --- |
| Spy-Mode Chat | Observe and question others' chats anonymously. | Complete anonymity for the observer. |
| Video Chat | Face-to-face conversation with random people. | Optional anonymity; users may be seen and heard. |
| Interest Tags | Add personal interests to find like-minded individuals. | Interests are shared but no personal info is required. |
| College Student Chat | A chat space exclusive to college students. | Requires .edu email, adding a layer of verification. |
| Anonymity | No registration or personal details are needed to chat. | High level of privacy and user protection. |
How to use Omegle?
Omegle is a good social platform for finding strangers who have different interests. It works well on any web browser which allows users to get the same chatting experience. The online platform doesn't have any official mobile apps for mobile phones and the services are free to use. Moreover, the online platform enables users to view their overall text with unlimited characters. An exit chat button is also available on the lower-hand side allowing users to end a chat as soon as possible.
The platform pairs users randomly in one-to-one chat rooms. Apart from that, it lets users trim down the random strangers they want to chat with. The enter/return board on the keyboard will become a send button automatically while chatting with others.
How to Start Chatting on Omegle
Step 1: Go to Omegle.com Navigate to Omegle's website in your preferred web browser. The homepage will greet you with two options: 'Text' or 'Video chat.'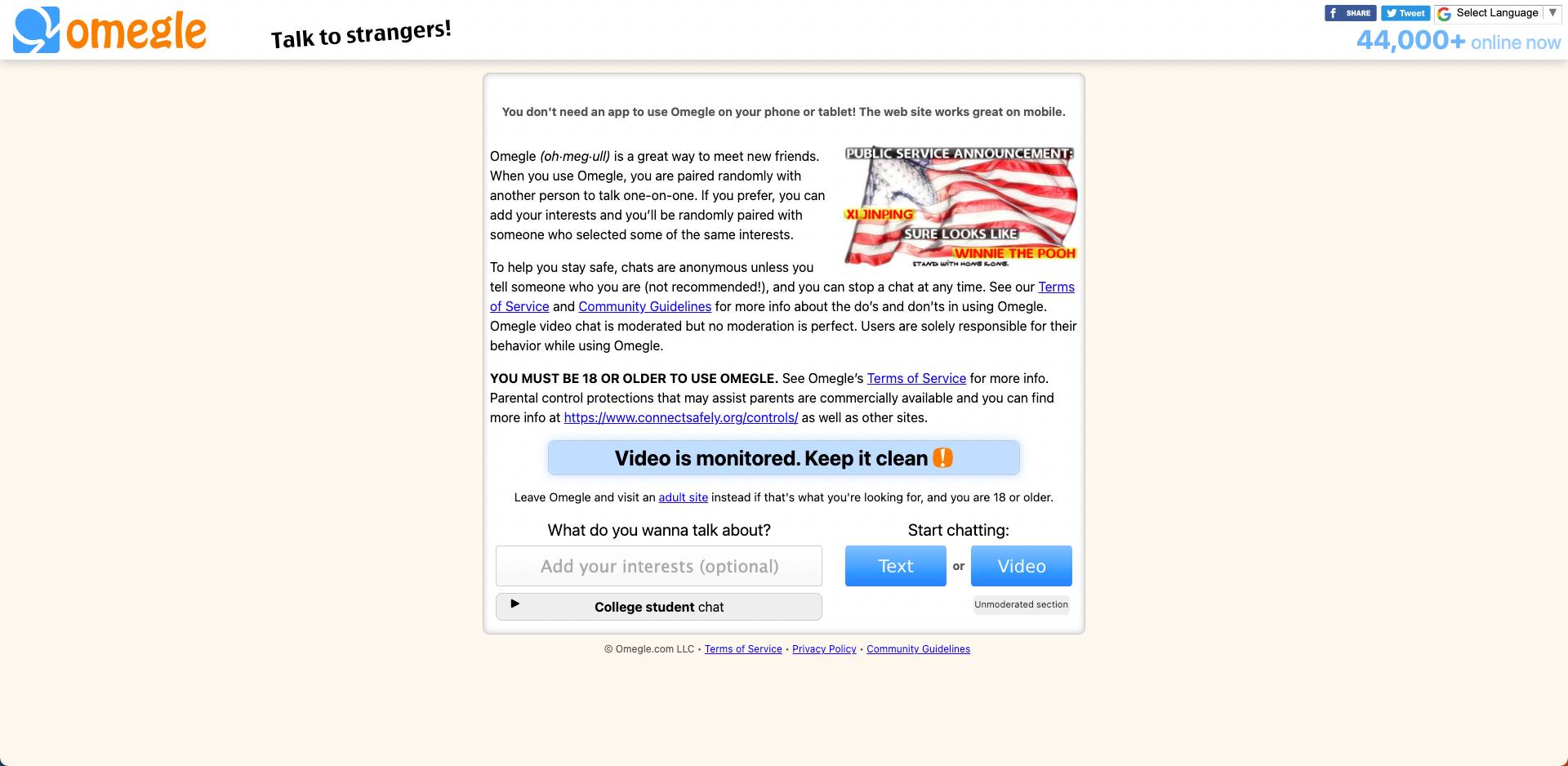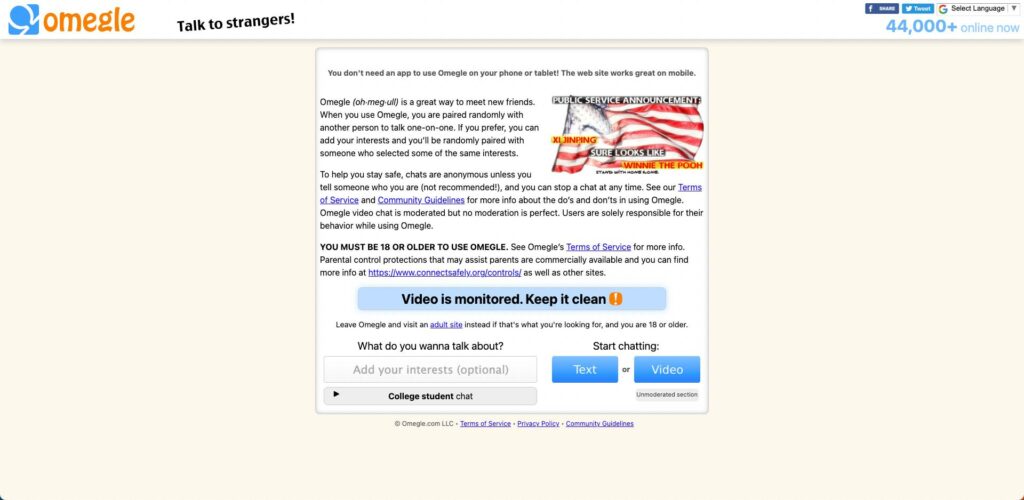 Step 2: Choose Chat Type Select 'Text' for a traditional chat experience or 'Video' to enable a webcam conversation with strangers. No registration is required for either option.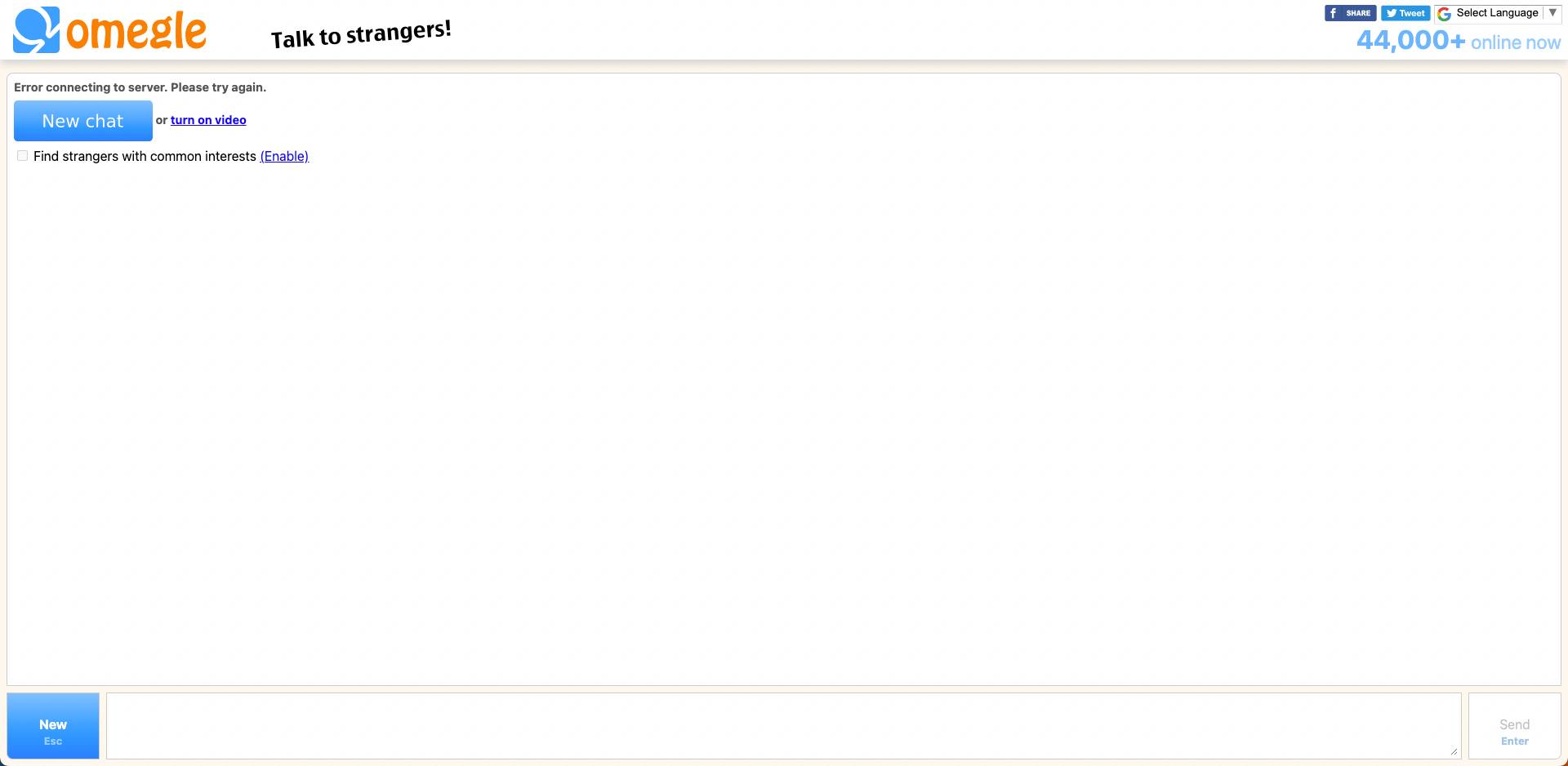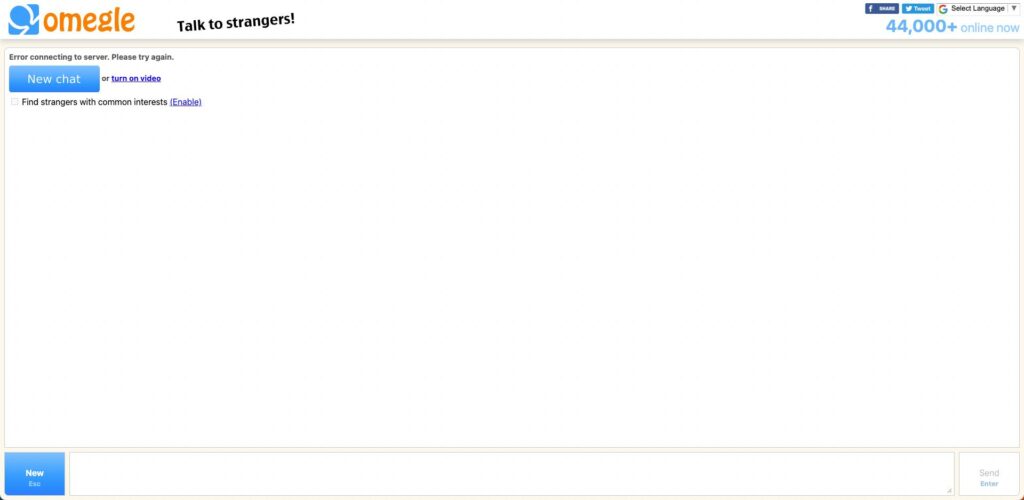 Step 3: Add Interests (Optional) Before starting, you can add your interests in the 'What do you wanna talk about?' field. This helps Omegle match you with someone with similar interests.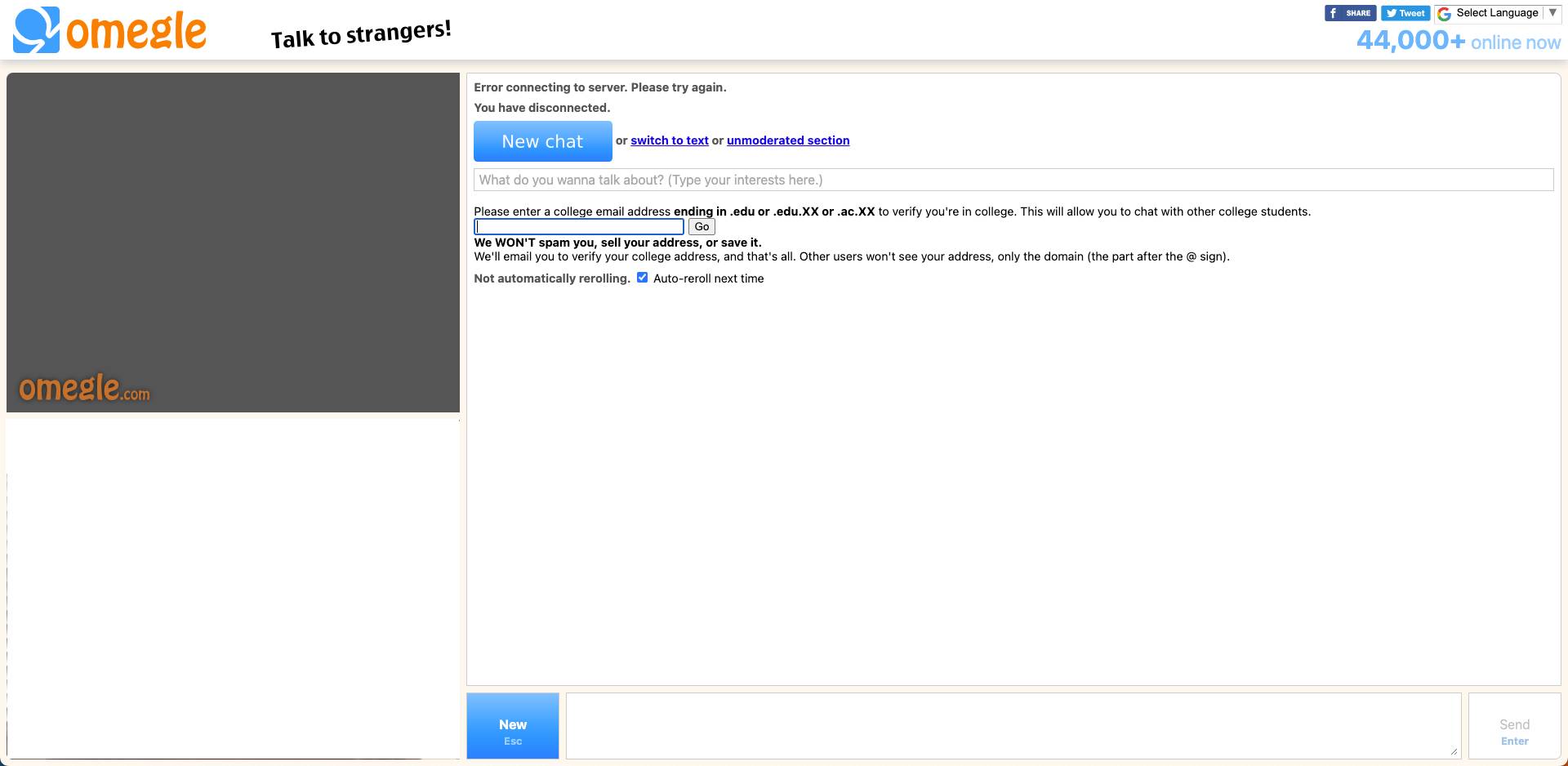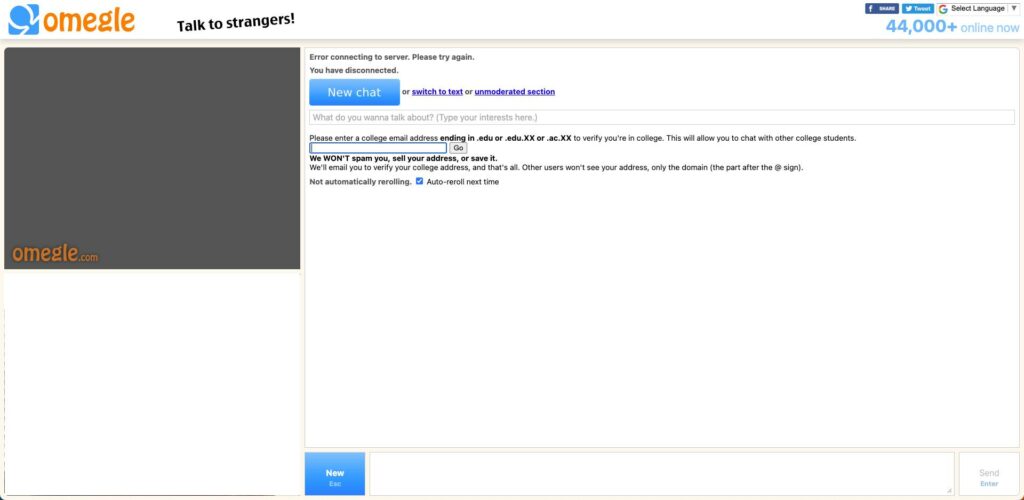 Step 4: Start Chatting Click the 'Start Chat' button. If you've chosen video chat, ensure your webcam and microphone are enabled.
Step 5: Chat With Strangers You'll be connected to a random stranger. Use the chat box to type messages or talk via webcam.
Step 6: Disconnect or Find New Chat If at any point you wish to end the conversation, you can click the 'Stop' button. To start a new chat, click 'New' or press F2 on your keyboard.
Why Omegle is popular now?
Omegle popularity recently increased when people started posting their good, cringy, scary, or hilarious experiences on YouTube and TikTok. Many young social media influencers also started to video chat with their fans on this platform. That also played an important role in increasing ng popularity of this video chat stranger app. Furthermore, It does not require any kind of registration or verification which makes it easy to use for everyone.
Is Omegle safe?
Although Omegle is one of the best video chat stranger apps with a very large number of users yet safety of the app is a major concern.
Risk of sharing or viewing inappropriate content
Omegle is an open platform and it does not require any registration which along with being easy for its users makes it a potential target for online scammers. According to the reports of BBC, many inappropriate videos and sexually abused videos of minors were posted on this platform which caused many Governments to issue warnings about using Omegle including the US, Canada, Australia, Norway, and France.
There are also many reports of racism were reported. So overall it might not be as smooth an experience as expected but one should be careful about using this platform for online chat.
Lack of moderation on the chat:
Omegle precisely does not moderate any chat, It has three video chat options Adult, moderated, and unmoderated. These options do not need any kind of age verification once you click on the adult chat option without any warning, will lead you to an adult pornography site. It might cause danger for underage users as they in a matter of seconds get exposed to potential risks. Apart from that video chat can be recorded on Omegle and distributed without the consent of the user, which makes it very risky to use.
If we conclude our debate on whether is Omegle safe to use then we can say that there are many potential risks involved and it is only safe for those users that remain conscious while using it and we will definitely not recommend it for underage users.
Safety and Privacy on Omegle
Safety Guidelines:
Stay Anonymous: Avoid sharing personal information such as your real name, location, or contact details.
Be Cautious with Content: Remember that your chats can be saved and shared by the other user. Avoid sharing anything you wouldn't want to be public.
Use the 'Stop' Button: If you feel uncomfortable, use the 'Stop' button to immediately end the chat.
Monitor Your Environment: Ensure that nothing in your background or surroundings can reveal your identity or location when on video chat.
Report Inappropriate Behavior: Make use of the report button to alert Omegle to users who are breaking the rules.
Privacy Assurance:
Omegle is designed with your privacy in mind:
Data Protection: Conversations are anonymous unless you tell someone who you are. No chat data is stored on Omegle's servers.
Anonymity by Design: The platform does not require registration, ensuring that your identity remains private.
Encrypted Communication: All chats are encrypted to protect against eavesdropping by third parties.
Remember, the best defense on Omegle is your judgment. Engage wisely, protect your privacy, and enjoy making new connections.
Pros and cons of using Omegle
Pros
Ease of Use: The platform is designed to be easy and quick to navigate.
Multilingual: The service is available in multiple languages to cater to a global user base.
No Registration: Users can start chatting without the need to sign up.
Browser Compatibility: Fully operational across all major web browsers.
Chat Control: Users can end a chat immediately if they feel uncomfortable.
Diverse Connections: Enables users to connect with random strangers based on shared interests.
Interest Tags: Users can add their interests to find like-minded people.
Video Options: Choice of moderated, unmoderated, and adult video chats.
Education Mode: Special chat mode for college students with a .edu email.
Cons
Relationship Goals: Not tailored for those seeking serious relationships.
Filtering Options: Lacks advanced filters to sort chat partners.
Safety Risks: Presence of scams, bots, and potentially fake user profiles.
Risk of Inappropriate Content: Potential exposure to harmful or adult content.
Lack of User Verification: No mechanisms to verify age or identity.
Limited Moderation: The site's moderation is limited, which can lead to unchecked user behavior.
Pros
Cons
Easy and quick to use
Not suitable for serious relationships
Available in different languages
No special filter to sort chats
No registration needed
Presence of scams, bots, and fake users
Works well on all browsers
Risk of inappropriate content
Immediate chat termination is available
Lack of user verification
Find random strangers with interests
Limited moderation
Interest tags for better matching
Various video chat options
Special mode for college students
Alternatives of Omegle?
Although Omegle is a very popular video chat stranger app, it does not come without any risk. The potential of being exposed to any unwanted situation is much higher on Omegle than the other video chat stranger apps. Omegle stands out for its simplicity and the ability to connect with strangers instantly without registration. It's a pioneer in random video chat services and remains popular due to this ease of access. However, alternatives like Chatroulette, Tinychat, and Chatrandom offer different experiences:
Chatroulette has implemented a new registration system to help with safety and moderation.
Tinychat provides chat rooms that can host multiple people and is geared towards creating a community around topics.
Chatrandom has a feature to connect with strangers from specific countries and a gender filter.
An alternative like StrangerCam adds another dimension to this landscape. It ensures a secure platform by requiring initial registration, which can deter scammers and enhance user safety. With StrangerCam, users have the advantage of selecting who they want to chat with, providing a personalized experience. The platform's strict safety policy and encouragement for users to report any suspicious activity further contribute to its secure environment.
While Omegle is unmatched in its user base and simplicity, these competitors may offer features that cater to users looking for more structured interactions, enhanced filtering, or community-based chat experiences. Users should choose based on their preferences for anonymity, safety features, and the type of social interaction they are seeking.
Omegle User Testimonials
Discovering a Music Connection: "I stumbled upon someone playing the guitar on Omegle, and it turned out we had the same taste in music. We ended up exchanging playlists and still chat about new music releases." – Alex, 25
Language Practice Partner: "I met a French speaker on Omegle who helped me practice my language skills. We've been learning from each other for months now, and my fluency has improved massively!" – Sara, 22
Shared Hobbyists Unite: "Omegle connected me with another avid chess player. We've had numerous games and even met up for a chess tournament. It's amazing to make a friend with such a specific shared interest." – Rahul, 30
Supportive Stranger: "During a tough time, I just needed someone to talk to. The stranger I met on Omegle listened and offered support. It was comforting to have such a kind-hearted person available at the click of a button." – Emily, 27